Adventurers and Pathfinders Rally Day in Derby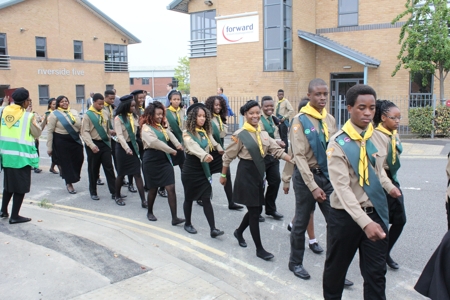 On Saturday 6th September, Bethel Adventurers and Pathfinders hosted their first rally day in Derby. The full-day event held at the Riverside Centre, Pride Park included an inspiring talk on the theme "Tug of war" presented by 16 year-old Wezley Bishop, and in the afternoon a parade with drilling and drumming to and from Derby City Centre.
Adventurers and Pathfinders in uniform from many Clubs covering the Area 4 and 7, namely Corby, Coventry, Derby Bethel, Derby Chester Green, Leicester Central, Nottingham Central, Nottingham Bulwell, Northampton and Rugby — all joined in this brilliant event. An excellent demonstration of the Pathfinders spirit and skills
Well done to all adventurers and Pathfinders and their leaders - you made us proud!

The first photos are now available.

Feel free to contact us if you wish to find out more about our Derby Adventurers and Pathfinders Club.
Easter Community Events
* Easter Craft Club
On Sunday 20th April, With Love From Bethel, our Community organisation, is planning an Easter Craft Club for kids aged 3 to 12 years old. The event is specially crafted for kids (3 to 12) from the Derby Community and will include various creative and fun activities such as Egg decoration, Egg painting and Easter Card making. (The event will include two sessions, please see below of the exact start times)
Important notes:
Kids must be accompanied by their Parent(s) or carer.

Pre-Registration is highly recommended. (Please refer to the "how to registrer" section below)

Second set of clothes or wearing old clothes is recommended
How to registrer:
1. Simply send us an email to Bethelderbycommunity(at)gmail.com or put a registration form through our letter box
2. Specify the following:
Child's name

Session Time (either 2:00PM or 3:30PM)

Age group (3 to 5 years old; 6 to 9 years old; 10 to 12 years old)
For more information, please contact us or visit our Facebook page www.facebook.com/WithLoveFromBethel
* Easter Dinner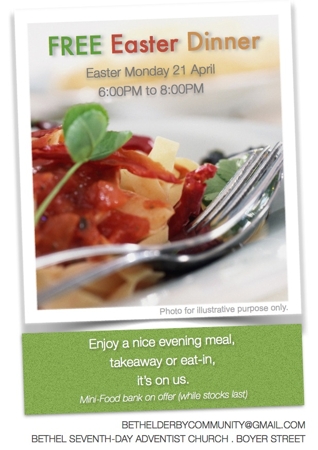 Another invitation from Bethel to the Derby Community : Easter Monday 21st April from 6:00PM to 8:00PM. Come and enjoy a Free Dinner, takeaway or Eat-in, it's on us.
For more information, please please contact us. or visit our Facebook page www.facebook.com/WithLoveFromBethel
Mother's Day Community Events
This year, Bethel Church celebrated Mother's Day by organising two open events for members of the Derby Community. The event was a success. Praise be to God!
Gifts Giveaway - Sunday 23rd March 2014, from 2:00PM to 5:00PM.

Free Dinner - Monday 24th March 2014, from 6:00PM to 8:00PM. Takeaway and Eat-in (limited seating capacity) options are available.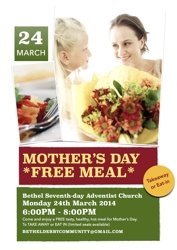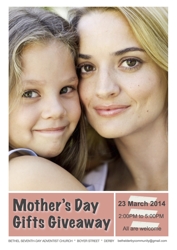 Check our Facebook page, With Love From Bethel, to see the photos of the event. www.facebook.com/WithLoveFromBethel
For more information on our community events, please contact us.
Bethel Baptism
Bethel and Chester Green churches had the joy of welcoming five new members through the baptismal waters and one profession of faith on Sabbath 18 January 2014 at Chester Green Church. Pastor Emanuel Bran proceeded to the baptism following the public statement by the candidates and allocution of guest Pastor Paul Haworth about "Becoming Certain by Doubting".
Enjoy the photos of the event.